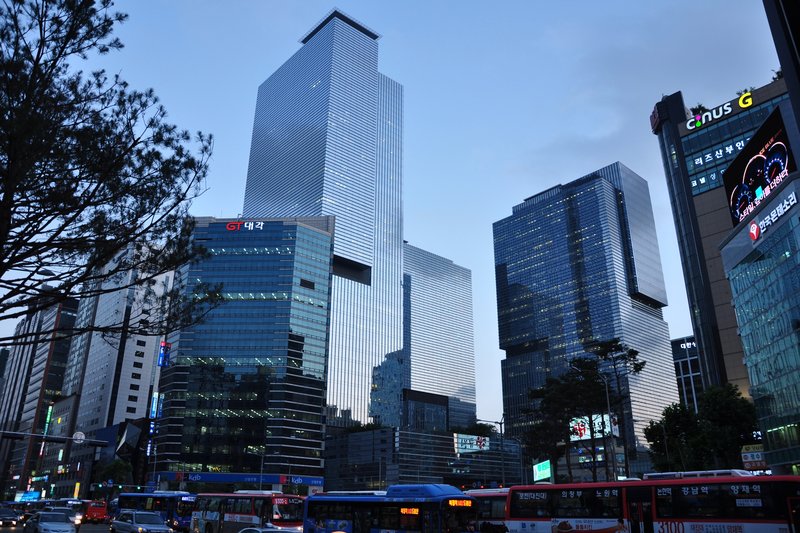 Can South Korea Survive Without Samsung Electronics?
On October 11, Samsung Electronics announced that it was halting its production of Galaxy Note 7. The Note 7 had seemed like a jackpot for the company. After its very first launch on August 2 in New York City, the smartphone had been lauded for its technological advancements.
But a mere two months later, the glamorous release was over. The phone was discontinued.
A Recap: The Disastrous Failure Of Galaxy Note 7
A few weeks after the first release, reports began to surface of the exploding Note 7s. On September 2, a month after that New York City launch, Samsung Electronics cited faulty batteries and started a global recall (but not in China, whose phones had a different battery supplier). The U.S. Consumer Product Safety Commission announced an official recall, and regulatory agencies in other countries took similar measures.
But the replacement Notes — with the new, supposedly safe, batteries — also appeared to be faulty. Explosions were being reported within and outside South Korea. Eventually, the main U.S. carriers, including Verizon, AT&T, and T-Mobile, halted issuing the Galaxy Note 7 out of safety concerns. And October 11: Samsung Electronics had no choice but to swallow the poison pill: discontinuation (China included this time). The company cut off the Note 7's lifeline, without knowing the exact cause of the problem.
By killing off the flagship product, Samsung Electronics is estimated to lose about 7 trillion won (roughly $6 billion USD). But this figure only accounts for the losses directly related to Galaxy Note 7 — the losses stemming from the recall, refunds, missed sales, etc. The figure does not reflect how this incident might damage customers' trust in Samsung Electronics, and the resulting decrease in future demand. As a matter of fact, 7 trillion won is not an unbearable amount for the company, which has made over 20 trillion won in profit this year, as of the third quarter.
What really matters are the future, less directly quantifiable losses. How will the Note 7 incident affect the sales of Samsung Electronics' future models? For example, how and when will Galaxy S8 be released, and how will customers react to this new model? If this model also proves faulty, or fails to regain the market's trust, the future of Samsung Electronics' mobile division will be very grim indeed.
Will Samsung Take the Nokia Route?
Samsung Electronics is South Korea's prize company. As of April 2016, its market value was about 203 trillion won (or nearly $180 billion USD) — over six times the values of the runner-ups, Korea Electric Power Corporation (KEPCO) and Hyundai Motors Corporation (HMC).
Samsung Electronics does not stand alone — it is the central subsidiary firm in Samsung Group, South Korea's biggest chaebol.
A handful of chaebols, or family-run conglomerates, dominate the South Korean economy. Samsung Group is the most powerful chaebol of them all. According to the Korea Fair Trade Commission, Samsung Group's total revenue at the end of 2014 was about 303 trillion won ($267 billion USD), and its total assets amounted to 623 trillion won (nearly $550 billion USD). To put these numbers into perspective, the South Korean GDP that year was a little more than 1400 trillion won (over $1.2 trillion).
(Editor's Note: Contrary to various media reports, this does not mean Samsung Group contributes to 20% of South Korea's GDP. Revenue and value added are calculated differently, and GDP uses the latter to measure contribution. In 2013, Samsung Group's contribution to the Korean GDP was 4.7%.)
Inside this leviathan Samsung chaebol, there are over sixty subsidiary firms. And Samsung Electronics, the golden child of them all, makes up over 40% of the entire group's sales, and about 70% of its net profit this year.
Samsung Electronics became a global player thanks to its semiconductor memory chips. It became one of the global players thanks to the success of its smartphones.
In 2011, Samsung Electronics displaced Apple as the world's number one smartphone maker. In the following two years, cellphones made up about 50% and 70% of Electronics' total sales and revenue, respectively. But since 2014, the profit from cellphones has been decreasing rapidly.
Is Samsung Electronics in danger of taking the Nokia route?
In the World of Disruptive Innovation, Any Company Can Fail
Nokia jumped into cellphone production in the early 1990s and became the leading manufacturer in 1998. Nokia Mobile reigned as the market leader until 2010, when the free-fall began. In mere three years, Nokia Mobile bowed out, and was sold to Microsoft.
Why did Nokia, at the top of the world for 13 years, collapse in this way? Had it become complacent and arrogant with its status? Quite the contrary.
Nokia believed that for a leading company, with sufficient financial prowess, to maintain its status, it must develop technologies that are expansive, complex, with no necessary guarantee of success.
True to this belief, Nokia spent astronomical amounts of money on R&D development. It created a separate division to lead groundbreaking innovations. It bought out companies with attractive technologies, and created joint ventures with many others.
These efforts did not all go to waste. Nokia was the first to be aware of the advent of smartphones, as well as their value. Nokia was the first to make smartphones. It was the first to start the app store business, predicting correctly that the cellphone market will shift from a hardware-centered market to one driven by contents and services.
In fact, even after Apple first released the iPhone, many experts did not see that this touchscreen smartphone was an innovation that would overturn the rules of the game. It seemed rational enough for Nokia, which was enjoying a massive profit in the traditional cellphone market, to respond passively to Apple's disruptive innovation. It was uncertain if the iPhone would even be successful, after all.
But 'creative destruction' — a concept named after the Austro-American economist Joseph Schumpeter — is a regularly occurring process in the IT industry. Companies create disruptive technologies that challenge, with the potential to destroy, the leading firm, which is always in danger of falling behind.
IBM was the pioneer of computers and a long-reigning king in the computer market. It collapsed because of a disruptive innovation called the 'PC revolution.' Microsoft was the absolute monarch of the PC era. It fell behind when the Internet and mobile innovations came onto the scene. Motorola, the leading manufacturer of analogue cell phones, and Nokia, the leader of second generation mobile phones, were all eventually dismantled from the throne.
It is not improbable — in fact, always a looming possibility — that one day Apple and Samsung Electronics, the current leaders of the smartphone market, will become the next victims of an unexpected innovation that will yet again disrupt the market.
A Rigid Culture Hastened Nokia's Collapse
Back to the Galaxy Note 7. Samsung's response to this whole incident is raising concerns that its electronics division can collapse even without the danger of disruptive innovation from competitors.
There are many parallels between Samsung's Note 7 incident and Nokia between 2008 and 2009. It was not long after the iPhone was released for the first time in 2007. In response, an Android union had been formed, with Google in the center, and Nokia became hard-pressed for a breakthrough in the smartphone market.
That was not all. Chinese and Indian firms were catching up rapidly, which meant demand for mid-priced feature phones in developing markets was declining rapidly. That was where Nokia had been earning the biggest margins.
Nokia was squeezed: faced with weak performance by its feature cell phones and fierce challenges from the smartphone competitors. Desperate, Nokia executives instructed the middle managers to release an app store to rival iTunes as quickly as possible. The managers answered that they could, although knowing it would be hard to match the instructed deadline.
The fact was, these managers had their own tiny kingdoms within their own jurisdictions, inside this massively successful company. They knew their positions would be threatened if they spoke honestly about not being able to follow orders. Ultimately, Nokia was 21 months late in releasing its app store Ovi, and lost the trust of its consumers. The Ovi incident hastened Nokia's demise.
Like Nokia — and everyone else in the business — Samsung Electronics faces stiff competition from all sides. Chinese manufacturers are edging out Samsung's low to mid-range phones; in the other high-end premium market, Apple phones pose a direct threat to the South Korean company. Such circumstances make it very likely for executives to urge middle management to release new models quickly, quicker than rival Apple does.
In this environment of stiff competition and haste, it is questionable how thoroughly middle management would have completed the quality inspections before launching the flagship product. When the Galaxy Note 7 phones started exploding, Samsung Electronics reportedly rushed to let out replacements in the market without a thorough investigation, swiftly concluding that Samsung SDI (another subsidiary of the Group)'s batteries were to blame. At the very least, there seems to be a serious communication problem between Samsung's top tier, middle management and engineers.
South Korea's over-dependence on Samsung Electronics and Samsung Group means the chaebol poses an innate risk to the South Korean economy. What will happen if Samsung Electronics collapses? What are the possible repercussions? How can the country prepare in advance?
How to Survive without Samsung Electronics
At the height of Nokia's power, its influence on the Finnish economy was so great that Finland was often called the 'one-firm economy.' Nokia contributed 4% of Finland's GDP in 2000. (Remember, Samsung contributed to 4.7% of South Korea's GDP in 2013.) But Nokia's collapse did not lead to Finland's. On the contrary, it led to a surprising vitalization of venture start-ups.
What helped Finland make a growth opportunity out of Nokia Mobile's collapse? A variety of factors helped prevent a disaster: Nokia Corporation's Bridge Program, which provided capital and venture education for its retirees; and Finland's social safety net, which included a comprehensive system of unemployment insurance.
To state the obvious, South Korea is not Finland. If Samsung Electronics falls, the social repercussions will look quite different.
Samsung Group operates on an extremely complicated matrix of vertical integration and circulars between the subsidiaries. This circular shareholding matrix is how the Lee family owns the Group while outwardly owning little of the total shares. They use the matrix to control the six central affiliates — including Samsung Electronics — and just six affiliates control the rest of the approximately 60 firms.
In addition to this convoluted, intertwined corporate structure, South Korea's social safety net is insufficient when compared to Finland's. All these factors increase the likelihood that when Samsung Electronics falls, Samsung Group will fall, and South Korea will face an economic crisis.
According to crisis simulations I have carried out, if Electronics stocks fall by 70%, both Samsung Insurance and Samsung C&T will become bankrupt. It is an inevitable domino game. If Samsung Life Insurance and Samsung Fire Insurance become bankrupt, the entire insurance industry in South Korea goes into crisis. If employees at Samsung Group and all its supplier firms (whose exact number is unknown) lose their jobs, unemployment rate in the country is estimated to rise by 7.1%. (Its current rate is 3.5%)
If Samsung Group falls, the country's National Pension Service is estimated to lose 19 trillion won (about $16.7 billion) in investment. The total amount of corporate taxes, by 2014 estimates, can decrease by over 4 trillion won (about $3.5 billion).
If the entire Group falls, and with it multitudes of suppliers that depend solely on Samsung, South Korea's biggest banks are at risk of insolvency. Foreign investors who make similar predictions as I have done will probably leave the domestic stock and financial markets. In summary, if Samsung Electronics collapses, South Korea can face an economic crisis more severe than the one it did in 1997.
Of course, Samsung Electronics has a strong semiconductor division. So even if its cellphone division fails, it is possible the company will survive. But even here, there are contingencies. The pace of technological innovations in the semiconductor division is reaching a glass ceiling; the price of semiconductors is sensitive to market fluctuations. When considering all this, it is difficult to imagine a comeback scenario for Samsung Electronics that does not involve its phones.
The Samsung Risk, in other words, is risk for the entire national economy, which is vulnerable to collapsing over the failure of one company. The Samsung Risk is South Korea's systemic risk, for which the government must prepare a worst-case plan. The government must reduce the level of national dependence on Samsung Group. It must separate Samsung's financial services divisions from the non-financial business units, to prevent the chain of crisis that will inevitably occur if one central subsidiary falls.
In May 2015, the first cases of the Middle East Respiratory Syndrome (MERS) began to surface in South Korea. The government's initial insistence was that the coronavirus was under control. It insisted on the 'best scenario,' emphasizing that officials were trying their best while hiding basic information about which hospitals had become breeding grounds for the virus. Not confronting the possibility of a worst-case scenario — which forces one to prepare a meticulous plan — brought about the MERS epidemic, the largest in the world after Saudi Arabia. Let us not repeat this foolishness.
This article was translated from Korean by Haeryun Kang. Click here to read the original.
Cover Image: "The Samsung Headquarters" (CC BY-SA 2.0) by Oskar Alexanderson
Become a subscriber to access all of our content.