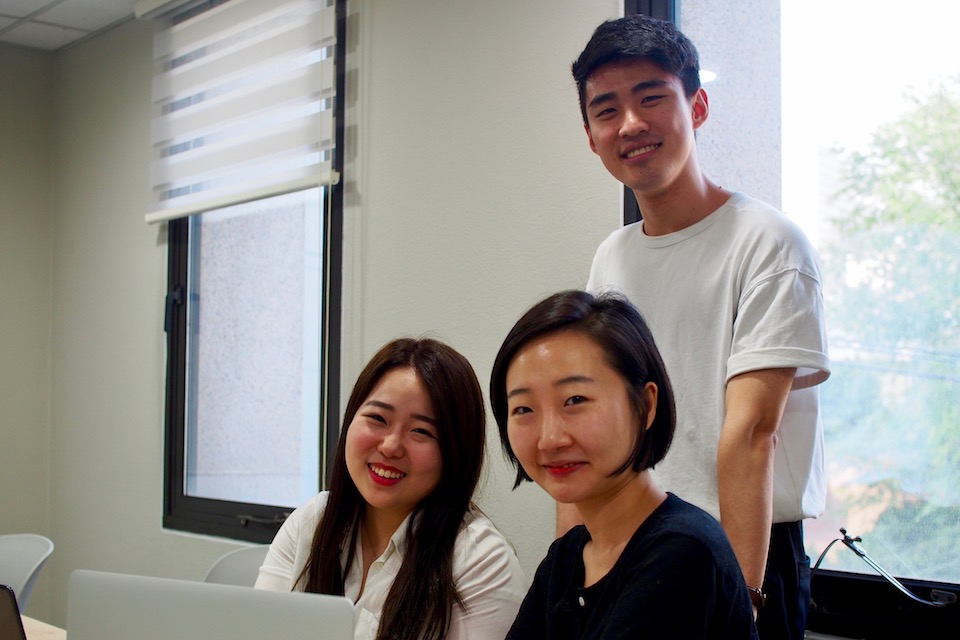 KÉ Interview: Building an App to Engage Young People in Politics
Many young South Koreans have taken to calling their country "Hell Joseon" because they see no hope in it. The job market is getting exceedingly competitive, and corporate culture, not to mention social relations in general, is rigidly hierarchical.
But South Korea is also becoming known for its thriving start-up scene, and young people are very much a part of it. At the first-ever Global Editors Network (GEN) Editors Lab hackathon in South Korea between March and April, a team of three students came out of nowhere to win the top prize, beating other teams backed by established South Korean media outlets. Their project is a smartphone app called Meanit (formerly known as Deep_tionary), and it's intended to allow young South Koreans to engage with politics in a fun way. The team is now competing in Vienna against other top teams that won national competitions around the world.
The trio — Soyoung Han, Dongmin Shin and Rayoon Hyung — spoke to Korea Exposé last week about their intriguing venture.
KÉ: How did you come up with your idea?
Dongmin (DM): GEN promotes sustainable journalism and media innovation, and a hackathon is a competition that lasts two days. Teams are given a particular theme at the competition site and each team must develop a service or program that suits the theme. At this year's first-ever competition in South Korea the theme was politics and election.
Rayoon (RY): We decided to do something for young people in their twenties, people like us who are in or recently graduated from university. These are people who aren't interested in politics.
Soyoung (SY): To be fair, it's not that they aren't interested in politics. They've become interested in politics through the Choi Soon-sil scandal [the corruption allegations against president Park Geun-hye, who was ousted from office in March as a result]. When they read political news, they find that it requires a lot of prior knowledge. They just don't have the understanding of current affairs to put political developments into context. So we thought we should start a service that functions as a conduit between these potential news consumers and news itself.
KÉ: So how does the app work?
RY: Meanit obviously means to define something. But it's also a synonym of "minute," meaning a short amount of time. It can also stand for a quick summary, as in "meeting minutes."
DM: The idea is to have users define these words in short but funny ways, like on Urban Dictionary. When we read comments on news articles on big South Korean search portals, they are often short but impactful. That's what we want. Users can also add a YouTube link or a tweet, and even a meme to illustrate the word.
RY: When you open the app, there are two modes: the "mean" mode and the "it" mode. When you are in the "mean" mode, you can list or define any word related to South Korean politics. In the "it" mode you can search for existing words in the database and see how other people defined them. There is also a way to see what keywords are trending in South Korea that day. These keywords are automatically collected by the app from internet search portals and Twitter.
SY: Any definition on the app must be short, under 140 characters. Allowing memes, especially gifs, is in keeping with the way South Korean internet users communicate online. We also make sure all text on the app sounds like something young people in their twenties would say. That's what makes it approachable for our potential users.
RY: In South Korea one concept in vogue is "daetgeul-ication," meaning that people are increasingly communicating through the format of daetgeul — internet comments. This is what people prefer, especially young people.
KÉ: Can you give one interesting example of a word on your app?
RY: Let's say "no-look pass." [The term trended on the South Korean internet when Kim Moo-sung, a senior conservative politician, pushed his suitcase at a waiting assistant after he came out into the airport waiting area; he didn't even bother to look at the assistant as he 'passed' the bag.] Someone will mention Kim Moo-sung in the definition for sure, but that alone is just boring.
DM: So you can view related videos by opening the YouTube tab within the app. There is also the Twitter tab for seeing what people are tweeting about the incident.
KÉ: How do you supply all the contents for this app?
RY: That's why we have hired people we are calling "boosters." It's important to have contents in the beginning before the app officially launches. We pay them a certain amount of money for this work.
DM: The app is still in beta mode. We first need to build up some foundational contents that suit our aim, so when people come and check out the app, they know what kind of user contents are expected. The app will open to the public when about 1,000 words are defined and stored in the database.
Later we will have each user contribution be vetted by other users under the evaluation tab. Users will decide what goes up and what stays out. That will be the first layer of quality control. For now, this idea isn't feasible because there aren't enough contents in the database yet, so there is instead a report button for any problematic words or definitions.
SY: Quality must be decided by users, not administrators. And we aren't going to just ask them to do this service for us. We will find ways to encourage user loyalty and give them the motivation they need. One way is to assign different ranks depending on levels of contribution.
RY: Another is to highlight users who receive most likes or votes. Then they become creators and share what they create. Hopefully with a high level of participation they will become more avid consumers of news and feel freer to talk about politics in everyday settings.
KÉ: It's unusual to meet young people who are so motivated. Tell our readers a little about who you are.
SY: I am a graduate student in the Department of Art and Technology at Sogang University, where I am studying UX (user experience) design. It involves creating technology-based services or products.
RY: I am majoring in politics and public administration at Hong Kong University but on a leave of absence right now. I did a little bit of work at Naver [South Korea's biggest search portal company] before, and I am interested in design and coding. I considered minoring in journalism at some point, and I like how technology and journalism are coming together.
DM: I am a graduate student in the Department of Industrial Engineering at Seoul National University. Of course I studied science, math and all that in engineering school but what I really want is to solve social issues. That's why I became interested in news.
KÉ: You must know that many young South Koreans are anxious about the future. They also talk often about how the country doesn't allow innovation or diversity. You are obviously achieving quite a success. What would you say to them?
SY: We are also pessimistic at times. We can make good things and go to international events, but frankly, most South Koreans don't want to hear about it, and the media doesn't report it. There is not much of a reaction, and there really isn't much state funding, either.
DM: Many thoughts went through my mind. The outwardly welcoming attitude in South Korea toward an event like [the hackathon] isn't really sincere. Even the view on media or technology is mixed with skepticism. There isn't much interest in new media. Even among many university students this isn't an interesting topic.
RY: If we are given the opportunity and the support we need, we would consider putting our studies on hold and go all in with this project. But those conditions are simply not there yet.
Cover Image: Rayoon Hyung (left), Soyoung Han (center) and Dongmin Shin are winners of the 2017 GEN Editors Lab hackathon in South Korea and behind the app Meanit. (Se-Woong Koo/Korea Exposé)
*
Editor's Note: Soyoung, Dongmin and Rayoon are representing Deepr Media at the GEN Summit 2017 in Vienna. Deepr Media and Korea Exposé are both recipients of funding from Mediati, a start-up incubator.
Become a subscriber to access all of our content.