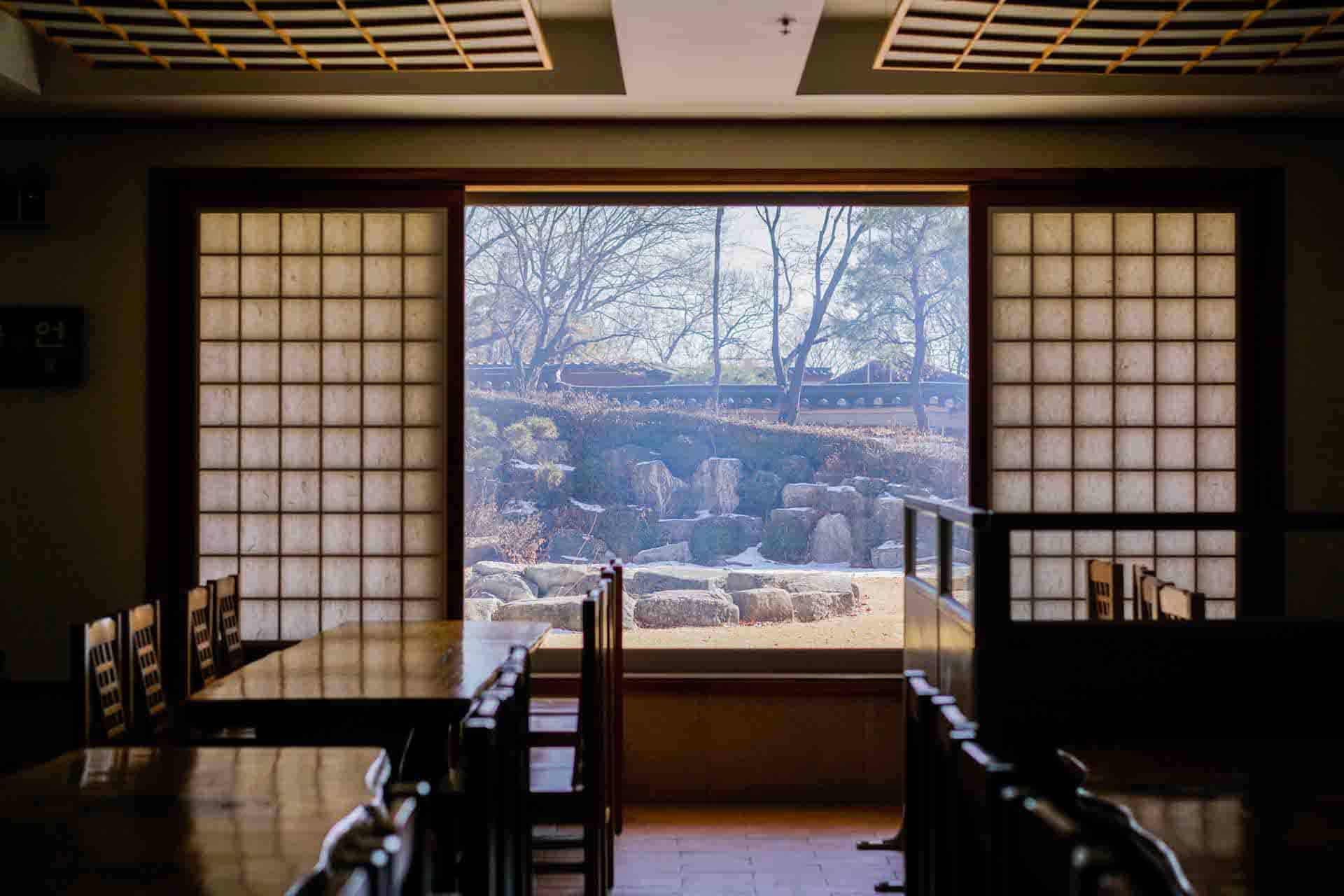 Best Meat-Free Buddhist Places to Eat in Seoul
Typically known for fried chicken and barbecued pork belly, Korean food may not seem very vegetarian/vegan-friendly. But off the beaten paths in Seoul (and sometimes smack in the middle of it) stand Buddhist temples that offer clean and modest meat-free meals — even free of charge at times.
In Buddhism, gongyang refers to the act of eating or providing food. But gongyang embodies much more than just eating.
"Gongyang is about sharing. Initially, we offered free lunches to those who couldn't afford them. But we welcome anyone, including non-Buddhists and foreigners, to our kitchen everyday," said Hyedam, a monk who oversees chores at Gilsangsa Temple in northern Seoul.
Gongyang is also a mindful practice, which reminds you to reflect on where the food comes from and how it nourishes your body. "Where does this food come from? I, with my lack of virtues, am ashamed to be eating it. I take it as the medicine to sustain my body, get rid of the greed in my mind and achieve enlightenment," goes a chant written in the canteens of Gilsangsa.
There's one absolute rule to gongyang: respect the food down to the single grain of rice. With frugality in mind, Buddhist monks even have to drink the water used to rinse out the dishes. Although laypeople are not expected to follow such strict rules, they should pay due respect to the food by finishing the dish. Hyedam said he makes sure visitors understand the gist of gongyang; when he spots someone leaving food, he'd admonish them for their lack of respect.
Here are four eateries run by Buddhist temples in Seoul that provide simple yet hearty meat-free lunches. The following venues are more approachable than most Buddhist temples in South Korea, which are typically hidden amid the trees and rocks of the country's many mountains.
Gilsangsa
Address: 323 Seongbuk-dong, Seongbuk-gu, Seoul (Tel: 02-3672-5945)

Lunch from 12 p.m. to 1 p.m. every day

Free of charge
Just a few bus stops away from Hansung University Station is Gilsangsa, founded by revered Buddhist monk Beopjeong in 1997.
A canteen on the first floor of Jijangjeon Hall has around 150 seats and wooden tables. At around quarter past 12, the canteen is lively but not crowded.
Stainless steel bowls of seasoned vegetables are lined up on trays, so that you can pick them up, scoop rice from the rice cooker and add a dollop of gochujang, or fermented red chili paste.
Seaweed soup, deep fried vegetables, seasonal fruit (grapes) and rice cakes are also up for grabs.
Hyedam, a monk who oversees various chores at the temple, says the menu is more or less the same every day — vegan bibimbap with five assorted vegetables and soup.
Many visitors are in groups, but I certainly am not the only one eating alone. Volunteers are amiable and helpful, making sure everyone is enjoying a simple yet hearty lunch.
On warmer days, more than 100 visitors come to Gilsangsa for lunch. Winter cuts the number by half, especially as the temperature tends to be a few degrees lower at the temple, located in a neighborhood high up on a hill, than in the city center.
Bongeunsa
Address: 531 Bongeunsa-ro, Samseong 1(il)-dong, Gangnam-gu, Seoul (Tel: 02-3218-4800)

Lunch from 11:30 a.m. to 12:30 p.m. every day (from 12 p.m. on Sundays)

2,000 won per person. Free on the 1st, 18th and 24th day of the lunar month and other special occasions.
Bongeunsa may be one of the most accessible Buddhist temples in South Korea. No need to climb a mountain or hop on a bus that typically winds a curvy road far from the urban hustle-bustle. Bongeunsa is actually in the middle of the city, in Gangnam. Upon exiting Bongeunsa subway station (on line nine), you'll see the temple right away.
Easy accessibility might explain why Bongeunsa charges money for lunch. Visitors need to buy a coupon (for 2,000 won or about $2) at the office, located in the main building.
The menu changes every day, but mainly consists of different combinations of rice, soup and assorted side dishes.
The day I visit, they are serving vegetarian curry with rice — which doesn't necessarily scream Buddhist temple food, but is surprisingly satisfying with the savory chunks of mushroom and pumpkin. It is, of course, served with kimchi.
The canteen accommodates over 400 people. Predictably, the atmosphere is less serene than that of smaller Gilsangsa, but the meat-free lunch isn't disappointing.
If I was in the area at lunchtime, I'd happily drop by for a comforting plant-based meal.
Jogyesa Seungso Kitchen
Address: 45-20 Ujeongguk-ro, Jongno-gu, Seoul

Open from 8 a.m. to 8 p.m.

4,000 won ($4) — meal coupons sold in a separate building
As the main temple of the Jogye Order, South Korea's largest Buddhist organization, Jogyesa runs several eateries, including Balwoo Gongyang, an upscale, one-Michelin-starred restaurant. But if you are looking for a more down-to-earth and approachable meat-free lunch, this is the place for you.
Located near royal palace Gyeongbokgung, Seungso is a convenient place to satisfy your appetite with simple Korean dishes. The venue feels cozy and neat, with patrons frequently coming and going. Unlike other Buddhist locations, Seungso doesn't have a canteen-like atmosphere, but offers more of a quaint eatery vibe.
Finding Seungso Kitchen can be confusing. The canteen is located in a building adjacent to the stone pagoda at Jogyesa. Exit the temple ground by the stone pagoda, go around the building through an alleyway to the right and you'll find the kitchen on the left. Before entering, buy a 4,000-won coupon from the office of the Buddhist Education Center right across from the eatery.
Unlike other lunch venues run by Buddhist temples, Seungso offers a menu with multiple choices. Dishes are all meat-free but not strictly vegan: noodles in anchovy broth, cold noodles tossed in spicy chilli sauce, seaweed and sesame soup with potato starch cakes and rice cake soup. Rice cake soup is seasonal (winter), replaced by cold noodles with radish kimchi in summer.
Rice, seaweed soup and kimchi are all complimentary and free-flow, up for grabs next to the kitchen counter. After the meal, you need to place your empty dishes on the countertop.
Manbal Kitchen, Jogyesa
Address: 55 Ujeongguk-ro, Jongno-gu, Seoul

Open from 12 p.m. to 1 p.m.

3,000 won ($3) — meal coupons sold in a separate building
Manbal, open for only an hour each day, provides a slightly cheaper lunch option than Seungso, with the same benefits of being in central Seoul. This is by far the busier kitchen; you'll have to queue for over 10 minutes to be served.
After waiting in line with dozens of others, mostly elderly women, I am handed a large melamine plate. As I inch forward with the plate in one hand and cutlery in the other, volunteers briskly and proficiently distribute rice and six side dishes, including japchae (stir-fried glass noodles and vegetables) and kimchi. If you ask for more, they will serve it without hesitation.
At the end of the distribution line, gochujang (chili paste) is up for grabs and a bowl of delectable soybean paste soup is handed to me. Most of the patrons seem like regulars, deftly tapping on their meal cards at the entrance. Digital screens on the subway turnstile-esque gates show their names and the number of meals left on their cards.
Don't worry, if you're a non-regular you can hand in a 3,000 won ($3) coupon, sold in the gift shop of the temple and purchasable only with cash.
The cafeteria is located near the stone pagoda at Jogyesa and may not be easy to find. It is technically under the temple grounds, reachable through what resembles a small underground parking lot. Leave the temple ground through the exit by the stone pagoda. The parking lot is on the right; on the corner of the parking lot is the entrance to the canteen.
On the slopes of Mt. Bukhan, visible from most parts of Seoul, there are almost 20 Buddhist temples.
On weekends (especially during warmer months), mountains and temples are abuzz with hikers looking for food. Keep in mind that not every temple provides gongyang. But on Buddha's Birthday, which falls on eighth day of the fourth lunar month, they offer scrumptious gongyang lunch to visitors.
Gongyang meals were originally meant for those in need, in accordance with Buddhist teachings, Hyedam told me. So be respectful, mindful and finish your dish to the last drop and grain.
All images in this article were taken by Jieun Choi/Korea Exposé.
Become a subscriber to access all of our content.