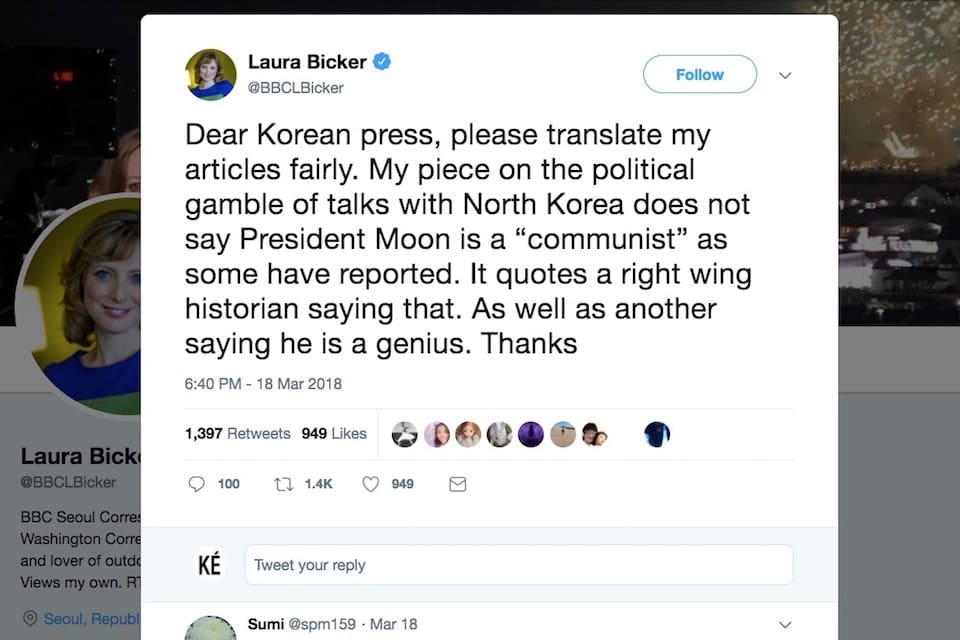 Foreign Media in South Korea: Arbiters of Truth, and Players in Their Own Right
On the evening of Mar. 18 the British Broadcasting Corporation's Seoul correspondent Laura Bicker sent out a tweet that reverberated through South Korean cyberspace.
Dear Korean press, please translate my articles fairly. My piece on the political gamble of talks with North Korea does not say President Moon is a "communist" as some have reported. It quotes a right wing historian saying that. As well as another saying he is a genius. Thanks

— Laura Bicker (@BBCLBicker) March 18, 2018
Bicker was referring to the fact that her Mar. 9 article, titled "Trump and North Korea talks: The political gamble of the 21st Century," had been distorted by big conservative South Korean dailies Chosun Ilbo and Donga Ilbo.
She had written: "South Korean leader Moon Jae-in is either a diplomatic genius or a communist set on destroying his country…depending on who you speak to."
Although the original Chosun and Donga Ilbo articles have since become difficult to find, according to related South Korean news reports, the two papers (meaning their reporters or editors or both) chose to ignore the fact that Bicker wasn't directly appraising Moon but simply citing opinions of others:
"The BBC said that President Moon [Jae-in] would be either a 'diplomatic genius' or a 'communist that destroys the country.'" (Chosun Ilbo, Mar. 12)
"The BBC…evaluated President Moon Jae-in as 'either a diplomatic genius or a communist that destroys his country.'" (Donga Ilbo, Mar. 17)
This might seem like a tempest in a teacup at best, but Bicker's takedown of Chosun and Donga for making it sound like she was engaging in direct criticism of the South Korean leader went viral. From the South Korean press — mainly those on the left side of the political spectrum — numerous condemnations of the two newspapers were issued for misrepresenting her article. (In case it isn't apparent, Chosun and Donga are ideologically opposed to the current center-left government.)
Bicker had every right to touch on a longstanding evil in the South Korean media: using foreign media reporting to advance one's own political agendas, even if it means mistranslating or taking things out of context. By making it seem as though influential foreign papers or broadcasters are criticizing or praising the South Korean government, domestic outlets try to create the impression that their own ideologically biased assessments of the country's affairs are indeed valid.
Read: "Ethics Be Damned: South Korean Media Fails"
But well-intentioned or not, Bicker's tweet also served to illustrate the kind of power the BBC brand — and big foreign media in general for that matter — commands in the country. Had Chosun or Donga misappropriated an article from a lesser known foreign outlet, or that of another domestic media entity, and provoked the author of that article into protesting, there would have been no such ripple effect as that which Bicker caused. By virtue of her employment, she enjoys authority, the kind of which domestic media craves for their own purposes, and she certainly didn't hesitate to exercise it in creating what one might call a teachable moment, to the detriment of two South Korean conservative media juggernauts.
(Seeing an advantage, even the presidential Blue House stepped into the fray and made a Facebook video solely to highlight Bicker's tweet .)
I am often struck by the attention foreign media receive in South Korea as Bicker demonstrated with her tweet. On news tickers that run at the bottom of the TV screens on buses, it's not uncommon to see Korea-related headlines from oesin — foreign media — as if they themselves are deserving of reporting.
What goes unmentioned is whether this kind of treatment of foreign media is actually warranted.
Bicker's article "Trump and North Korea talks" is well-written and balanced, bringing in perspectives from both supporters and opponents of Moon. I won't quibble over the fact that no one in the article is actually quoted as calling the president a communist, despite the sub-headline that suggests some are. (I won't because I see such people at rallies in downtown Seoul almost every weekend, holding up banners that call Moon a North Korea sympathizer. I won't even though she says in her tweet that she "quotes a right wing historian saying that" and there is no such source anywhere in the piece.)
But in terms of insights, there is nothing in the article that merits secondary reporting in Korean. And there is no reason she should offer anything along that line. After all, Bicker is writing for an English-speaking international audience that lacks knowledge of the region. She must abide by a different standard of substantiveness than what is required of local media.
And yet her article (and subsequent tweet) generated traction here, as do many foreign media articles about Korea, because what matters is as much who ran it as what was being said.
A few years ago, while Park Geun-hye was still president, Kim Moo-sung, then-leader of the conservative Saenuri Party (now called Liberty Korea), made a remark that explained the perception of foreign media as held by some South Koreans, as a tool for propaganda. Though the original tweet is no longer available, Reuters reporter James Pearson who was at the scene quoted Kim as telling foreign journalists, "The world sees South Korea through your eyes. The more the good news reported by you, the better the image of our country and the higher the national status. […] We wish that the story you write about our country delivers not just the news but also your affection for South Korea to the outside world."
Read: "South Korea's Real Culture of Shame"
Lest it be unclear, it isn't just conservatives who seek to use foreign media to project a particular idea of South Korea before an audience, whether international or domestic.
In the heyday of the Park presidency, some of what I wrote was picked up by a Korean site called Newspro, which translates foreign-language news articles into Korean for online distribution and clearly had an anti-Park agenda. I didn't always care for their work because they would run the translations with sensational headlines that stressed aspects of my writing to serve their political aim, to the point of obscuring or distorting my real intentions.
Since Moon took power, the Blue House has introduced a regular feature on its Facebook page, called "11:50 AM: Live from the Blue House." As part of that feature, the presidential press secretaries routinely allot time to discussing favorable foreign media coverage of the presidency, called "Today's oesin."
And when Monocle, a "global lifestyle magazine" as described by the Blue House, conducted an interview with Moon and his wife Kim Jung-sook last month, the presidential office dedicated three separate Facebook posts to it — a cringe-inducing decision I couldn't understand for the simple reason that this was… Monocle, a publication better known for building a readership among upwardly mobile men of a certain age than seriously discussing global politics.
But it is less what Monocle actually is than the fact that a "global" magazine interviewed Moon that matters for consumption by his own political base in South Korea.
(To be fair, a correspondent with a U.S.-based newspaper told me four years ago that the Park Geun-hye administration was desperate to do an interview with a notable foreign paper while in office. Most apparently declined the interview offer because her officials demanded that only pre-approved questions be asked.)
Many replies to Bicker's tweet seem to suggest that foreign media enjoy a great deal of trust from South Koreans, unlike local outlets and journalists who are getting shredded as giregi — trashy tabloid journalists — in the thread. Some even offered to "apologise on behalf of the Korean public" for what Chosun and Donga had done to her. (A study also shows just how little trust South Koreans have in domestic news sources.)
But therein lies the contradiction: Even as foreign journalists are deemed to be arbiters of truth, their work is used selectively, sometimes even deceivingly, by different sides in South Korean society.
Whether they like it or not, foreign media, too, are pieces in the game of South Korean politics due to their perceived credibility and ability to rally opinions. With such power one can only hope there also comes a sense of responsibility.
Editor's note: This essay was revised at noon, Mar. 22. A previous conclusion ended with an anecdote about a foreign journalist, who allegedly takes advantage of the influence he enjoys from working for a big international media organization to increase his popularity on social media among South Koreans. The anecdote failed to provide a clear and substantive connection between the journalist's social media habit and lack of credibility, and was removed.
Become a subscriber to access all of our content.