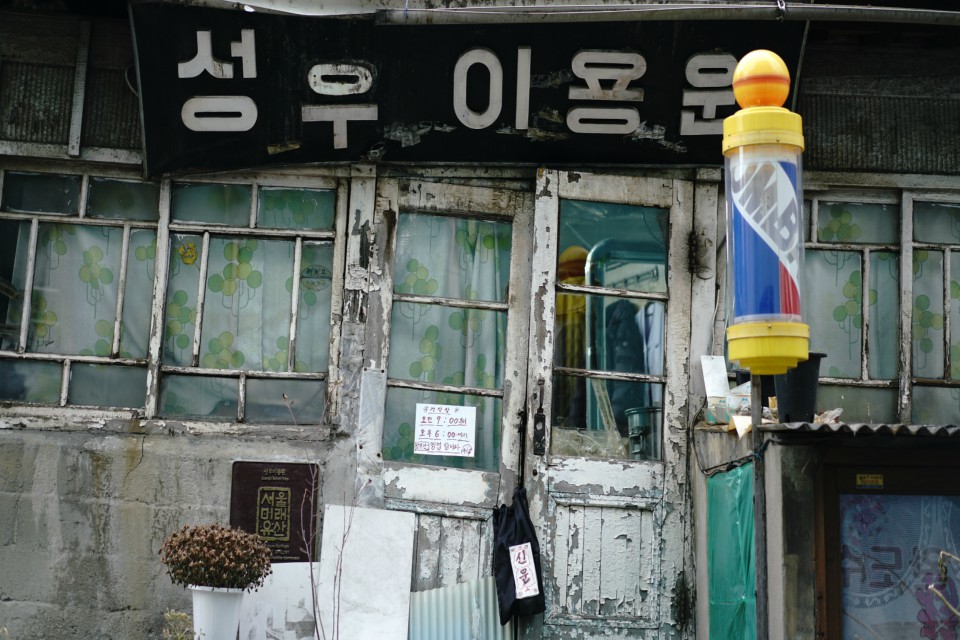 Opened in 1927, Seongwoo Barbershop is one of the oldest in South Korea. Its 68-year-old proprietor-cum-barber Lee Nam-yeol may also be one of the longest-running barbers in the country.
Time seems to stand still here. Since Lee's grandfather opened the shop under Japanese rule, Lee has kept most of the original furniture intact. A briquet stove warms up a quaint little parlor, where Lee still uses tools from the 1950s — the ones he used as a younger man, beginning to work with his father, who had inherited the shop from his father-in-law.
Patrons from all over the country and varying backgrounds visit Lee. A haircut is 13,000 won, or $12. Well-known figures like the chairman of Samsung Group Lee Kun-hee has gotten his haircut here too. Lee only cares about one thing: giving the best haircut to customers that see the value in his old shop, in his old hands, which Lee calls "the hands of magic."
Lee's business has been generally prosperous. The crackdown on men's long hair during the Park Chung-hee dictatorship throughout the 1970s made for pretty good business, he said. But the barbershop industry has faltered since the late-70s, when 'decadent hair and cosmetics services' started sprouting up, essentially providing illicit sexual services behind the facade of being a barbershop. These services largely tainted the reputation of barbers everywhere; Lee says many of his colleagues quit in the 1980s and he himself lost entire customer bases — namely that of children and teenagers.
Back in the day, he used to work 16 hours per day. Today, only nine hours. Due to health concerns, he takes Wednesdays off, but he's not quitting anytime soon. "I will work as long as my eyes can see and my legs can stand up for work," Lee said.
Become a subscriber to access all of our content.