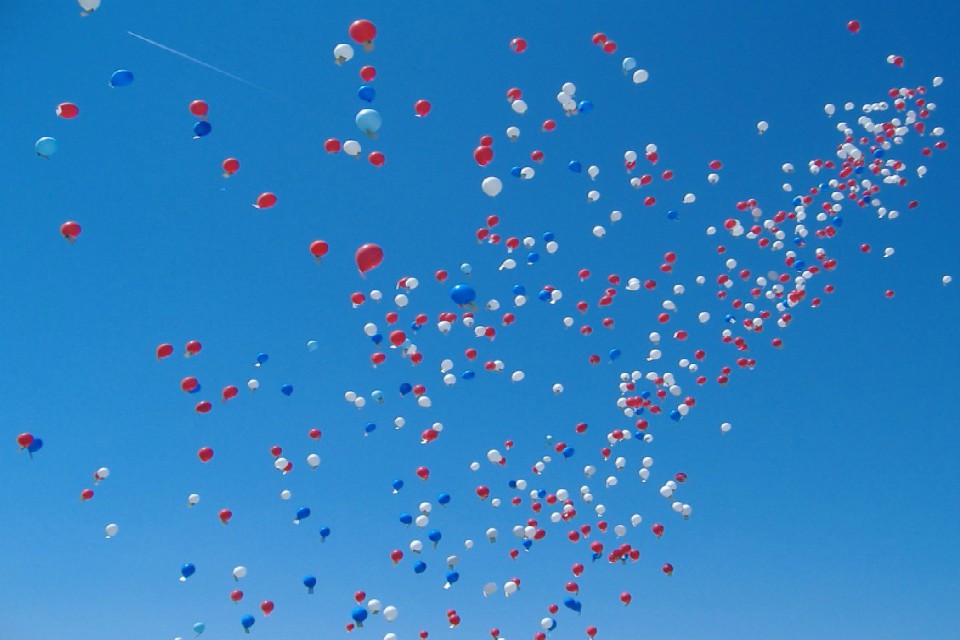 Don't Let Go: Those Balloons Can Kill
Earlier this month, Lotte Corporation launched thousands of balloons into the air to mark the opening of its World Tower in Seoul. It was a beautiful sight, and a typical practice at such occasions. Balloons are released into the sky all the time: at weddings, ceremonies, parties; even at the nationwide candlelit rallies that called for former president Park Geun-hye's ouster. Rising into the sky, balloons symbolize hope, joy and anticipation for the future. Unfortunately, they also litter and kill.
Revelers launch balloons to celebrate the new year. In South Korea and many other countries, releasing balloons into the sky is a common practice to commemorate events. (Source: YouTube)
"Balloons can take years to break down, even the so-called "biodegradable" latex ones," said Balloons Blow, a website based in Florida, U.S., that aims to educate the public about the detrimental effects of releasing inflated rubber into the sky. "Dolphins, whales, turtles, and many other marine species, as well as terrestrial animals such as cows, dogs, sheep, tortoises, birds and other animals have all been hurt or killed by balloons. The animal is usually killed from the balloon blocking its digestive tract, leaving them unable to take in any more nutrients. It slowly starves to death."
According to the U.K.'s Marine Conservation Society, justification for releases has largely been based on a 1989 study by D.K. Burchette, who argued that 90 percent of balloons rose to an altitude of five miles, where they fractured into pieces too tiny to damage wildlife and the environment. In rebuttal, MCS cited more recent research claiming that 80 percent of balloons released into the air actually come down intact. The society is currently planning a "Don't Let Go" campaign to ban all intentional releases of balloons and sky lanterns outdoors.
One of history's most famous balloon releases — 1.5 million balloons — took place in the U.S in 1986.
South Korea currently has no laws regulating such launches. At the time of publication, the Ministry of Environment had no official comments regarding the impact of balloons on the environment.
It's difficult to find an article on Naver, a major online search portal in South Korea, that addresses this issue. "The environmental damage from releasing balloons isn't widely known about in South Korea," wrote daily newspaper Hankyoreh. "Both private groups and public entities like schools and regional governments are indiscriminately launching so-called 'balloons of hope' and 'balloons of desire.'"
"Would you leave balloons out of an event, if you were in my position?" said Huh Eun-moo, director of the Sewol Support Department in Jindo, South Jeolla Province. Huh is currently overseeing the three-year anniversary event of the sinking of Sewol, a ferry disaster that killed 304 passengers, mostly teenagers. The event, which will take place on Apr. 16, the day the ferry sank near Jindo, will likely include a balloon launch.
"We released 2,000 balloons in previous years," Huh told Korea Exposé. "There were some complaints from environmental groups. We might just release 304 this year."
Cover Image: (Source: Helen Warren)
Become a subscriber to access all of our content.