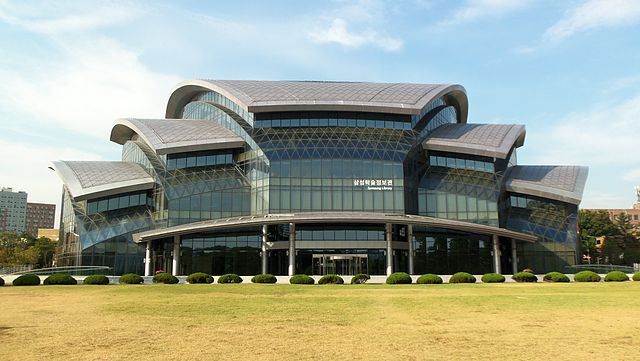 A Confucian versus Capitalism at South Korea's Centuries-Old Institute of Learning
On South Korea's blue 1000-won note is a picture of Sungkyunkwan, the nation's centuries-old bastion of Neo-Confucianism steps away from the old Changgyeong Palace in central Seoul.
But in a strange turn of events, a Confucian scholar battles for the soul of the institution — now one of South Korea's premier universities — against an administration overseen by blue-blooded capitalists.
Sungkyunkwan is controlled by none other than the ubiquitous Samsung Group, whose founder "Hoam" Lee Byung-chul first took the helm of the university foundation in 1965. His twelve-year tenure, which ended with an intervention from the Ministry of Education, was marked by dogged student protests over allegations that Samsung profited by selling off university estate, failed to invest in the university as promised, and appointed eleven of fifteen trustees instead of six as originally agreed.
After a dumpling company Bongmyeong struggled to fill the lacuna in university budget following Samsung's departure, the Samsung Foundation regained control of the school in 1996 with fresh rights to appoint university trustees and open an affiliated medical school in exchange for financial support. Having learned from its previous fiasco, the company has become more suave in its dealings with academia.
Under the aegis of Samsung, which has invested 1.5 trillion won ($1.3bn) since 1996, this 26,985-student institution has admittedly gained in stature, topping South Korea's private university rankings in the UK-based Times Higher Education survey in 2015.
Traces of Samsung are ubiquitous on campus. Samsung built and renovated over a dozen buildings including the semi-conductor hall and Hoam Hall, named after the late Samsung founder. Under the late Mr. Lee's initiative Sungkyunkwan built its natural sciences campus, crowned by the state-of-the-art Samsung Library, just 40 km away from its main campus in Seoul and 10 km away from Samsung Electronics Headquarters in Suwon.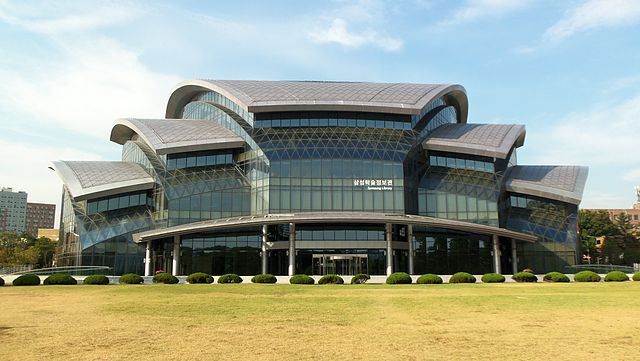 Against this mighty university headed by a former physician of the bedridden Samsung Group Chairman Lee Kun-hee, its alum and employee Ryu Seung-wan has been staging a lonesome fight.
After earning his doctorate from Sungkyunkwan's Department of Confucian and Oriental Studies, Mr. Ryu received his department's approval to teach a course on Chinese philosophy in 2011. But without an explanation, the administration cancelled his class within months while he was in Beijing. Mr. Ryu protested for two years and sued the university to gain a research position at Sungkyunkwan's Institute of Confucian Philosophy and Culture, only to be notified again this summer that his contract will not be renewed.
He says the university authorities' assumption of his involvement with the student occupation of the administration building protesting 9.8% tuition spike in 2000 was the reason for his first removal. He adds that his criticism of the Samsung chief during an interview with a South Korean media outlet, Media Today, was the catalyst for the second firing.
"The university keeps a blacklist of staff and faculty with activist backgrounds who are vocal critics of Samsung," said Mr. Ryu.
Ryu has already been vindicated twice in court, with the lower court quashing in 2014 Sungkyunkwan's dismissal of him from the research position at the Institute of Confucian Philosophy and Culture. Seoul High Court affirmed the lower court ruling in April 2015, but the university appealed that decision.
Sungkyunwan spokesperson Kim Hyung-il dismissed Mr. Ryu's accusations but declined to elaborate on the matter, saying he could not comment until the conclusion of the current litigation.
"What happened to Professor Ryu is a good example of what can happen at a university controlled by a private corporation," said Chicago Theological Seminary Professor Seo Bo-myung, whose book Collapse of Universities was inspired by his sabbatical at Sungkyunkwan. "A university no longer feels obligated to protect the freedom of speech and no longer understands that such a freedom is essential to the life of the university."
For a South Korean corporation, having control over an academic institution yields both financial and intangible returns. In addition to social prestige and tax deduction, the company can tailor university education. Samsung Electronics and Samsung Electro-Mechanics have founded the Department of IT Convergence and the Department of Mobile Communications, and require four years of service at these subsidiaries in return for full scholarship.
Sungkyunkwan's assets also carry 155bn won ($140m) of for-profit operations, which brought in around 70bn won ($60m) in revenue in 2014. Of these, the university hospital has been its cash cow, and the remarriage between 77-year-old Samsung and 617-year-old Sungkyunkwan was also sparked by their mutual interest in health care. Samsung had opened its medical center in 1994 and was searching for a university partner, while Sungkyunkwan had been the only major research university in South Korea without a hospital of its own.
Samsung is not the only family-controlled conglomerate to own and operate a university in South Korea. Hanjin Group, which owns flag carrier Korean Air, acquired its chairman's alma mater Inha University in 1968. Hyundai and LG have established and maintained close ties with Ulsan University and Cheonam Yonam College respectively.
Fortune 500 company Doosan's ex-chairman Park Yong-sung acquired Chung-Ang University for 120bn won ($104m) in 2008 and converted it into a subsidiary of Doosan. Eight years after crowning himself the university board chairman, Mr. Park stepped down this April after his incendiary email that he would "axe the necks" of Chung-Ang professors dissenting his reform was leaked and printed by a South Korean newspaper. Park had also ordered his admissions officers to admit more men who can donate back rather than women who "only put powder on their faces," prompting widespread outrage.
With the guidance of the management consulting firm Accenture, Mr. Park had instituted reforms which included dissolution and merger of almost half of 77 academic departments, an annual salary system based on four performance grades for all professors, mandatory accounting classes for all students, and grades of D or below for the bottom 5% of every class.
Back at Sungkyunkwan, some students formed "Project Ryu" to lend him university library books and take his class for zero-credit to support him during the trials. While Sungkyunkwan professors have been wary of openly supporting Mr. Ryu, the faculty council of Sungkyunkwan's college of liberal arts issued a joint statement this March deploring "market oppression of academia" at Chung-Ang University, in a message against corporate intrusion into universities at large.
More alarming for many professors who led the heyday of South Korea's student democratic movement, which witnessed students help topple dictatorships, many of today's students have become de-sensitized to corporate governance on campus.
"Samsung acquired Sungkyunkwan about the same time we were born so I can't feel how Samsung changed my school," said French literature major Hwang Ji-hyun.
Become a subscriber to access all of our content.