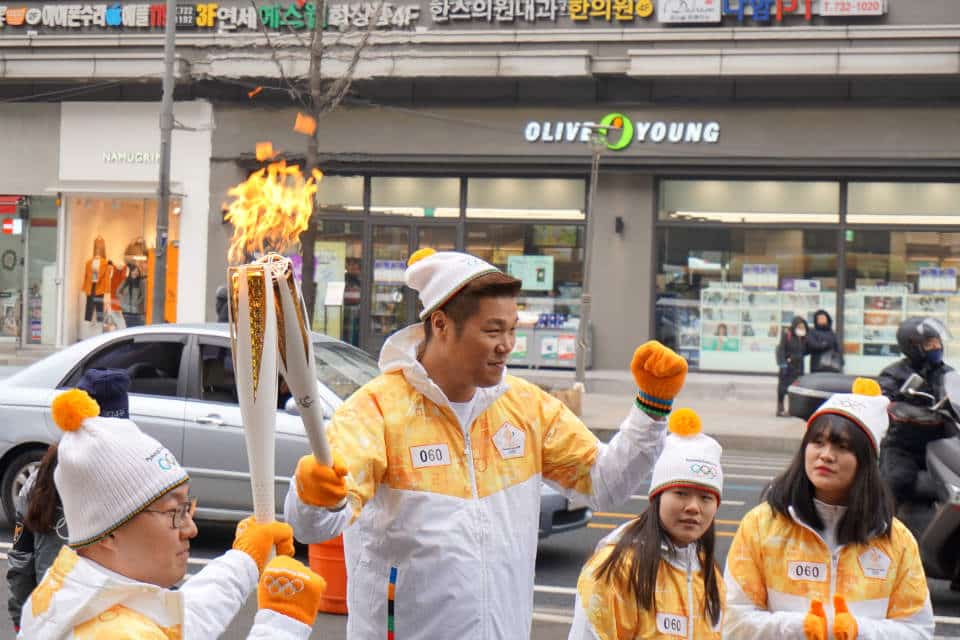 Spirits High As Pyeongchang Olympic Torch Arrives in Seoul
There was excitement in the air as the Pyeongchang Olympic torch arrived in South Korea's capital Seoul on Saturday Jan. 13.
One of the relay's routes ran from Gwanghwamun in the center of Seoul, eastwards towards Dongdaemun for a run that lasted approximately 90 minutes. Torch-bearers lined the streets, catching the flame that was first lit in Athens on Oct. 31 of last year. An escort of police officers, organizers, journalists and passers-by ran alongside.
On this specific run, torch-bearers included former basketball player-cum-entertainer Seo Jang-hoon, were chased by a sea of fans shouting their names and screaming, "Pyeongchang! Fighting!"
"Let Everyone Shine," the torch relay official song, was played on repeat from buses that followed the torch-bearers, adding to the sense of excitement for the arrival of the Olympic flame last seen in South Korea in the summer of 1988, almost three decades ago.
Organizers will be keen to ensure that the current leg of the celebrity-packed torch relay, which is scheduled to pass through the streets of Seoul for a three-day period, will give them the boost they need to encourage potential customers to go out and buy tickets, in order to achieve a target of 1.07 million. As of Jan. 4, only 680,000 tickets — 64.2 percent of the total — have been sold.
Another concern for organizers will be dealing with the expected North Korean contingent. Pyongyang and Seoul agreed on Jan. 9 that the North would participate in the Games, dispatching a massive 400-500 strong delegation.
There has also been talk of a joint inter-Korean women's' ice-hockey team. However, such details have yet to be confirmed.
On Jan. 13 — the same day that the Olympic torch relay started its stretch in Seoul — the Ministry of Unification announced that North Korea had responded to their proposal for high-level talks on Monday, Jan. 15 to discuss plans for an "art troupe" that Pyongang wants to see performing during the games.
After Seoul, the torch relay will continue through Gyeonggi Province before finally heading to Pyeongchang, Gangwon Province, having passed through an estimate 7,500 torchbearers' hands. The winter games will officially open on Feb. 9.
Cover image: Former basketball player and entertainer Seo Jang-hoon holding the Pyeongchang Olympic torch alongside teenage basketball players in Seoul on Jan. 13. (Raphael Rashid/Korea Exposé)
Join the newsletter to receive the latest updates in your inbox.