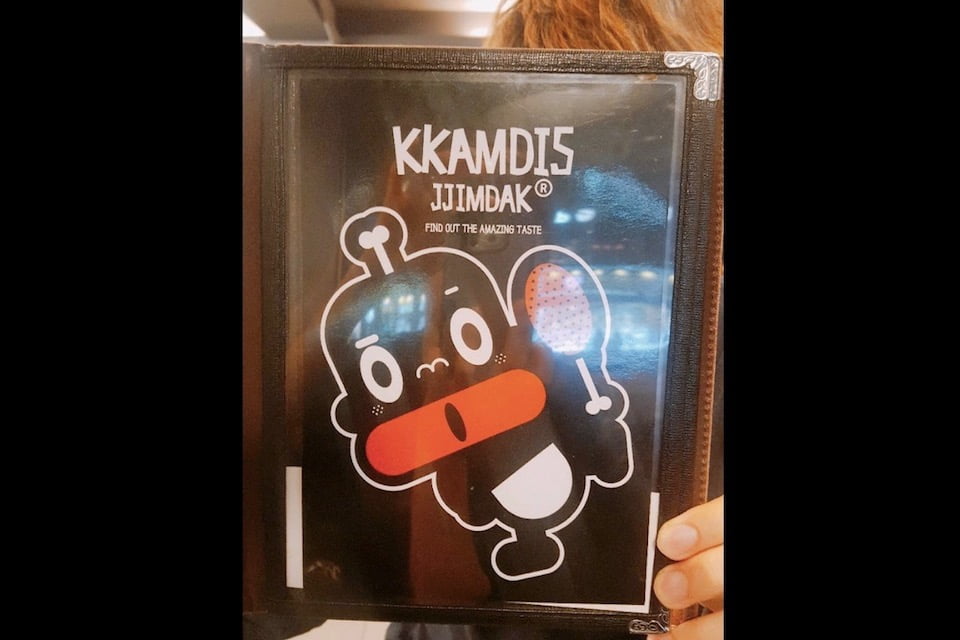 S. Korean Chicken Joint Named "Blackies" Accused of Racism
Black caricatures are surprisingly — or perhaps unsurprisingly — often used without critical discretion in South Korea, deployed as a comic relief on television shows, in K-pop, and most recently, a restaurant selling spicy braised chicken.
On Dec. 7, a software engineer from Louisiana was coming out of a subway station in Suwon, a city directly south of Seoul. His eyes caught the signboard of a restaurant called Kkamdis — literally, "blackies."
Next to the big sign was a caricature of a black figure with thick orange lips, wearing just a white loincloth and holding a chicken leg — the stereotypical image of a thick-lipped black person with the undertones of being primitive (read: loincloth). "I looked at it, read the sign and couldn't believe my eyes," the American expat told Korea Exposé, requesting anonymity.
When he posted photos of the restaurant on Facebook group Restaurant Buzz Seoul, he was surprised at the speed of reactions from foreigners and South Koreans alike. Comments on the post, which is public, were mixed.
There were a few defenders: Some claimed that the syllable kkam in "Kkamdis" did not necessarily refer solely to black people and was also used to describe Koreans with tanned skin. One user tried to argue that the word was innocuous in this case because it was actually a shortened version of the word kkamjjak, meaning "surprise" or "shock."
But the majority of commenters expressed distaste. To compare the racist undertones, one user posted a photo of the grinning caricature of a black man used to advertise Coon Chicken Inn, an American chain restaurant that went out of service in the late 1950s.
The Coon Chicken caricature is just one of the many stereotypes formerly perpetuated through mainstream American culture. In the 1930s to 40s, several American shows shamelessly portrayed black people with stereotypical ethnic traits such as dark skin, thick lips and wide, jovial grins. For decades, African Americans were reduced in popular representations to simplistic characters with few personality traits of their own — think the Mammy, the fiddler.
In South Korea, some have traced the origin of the racist streak to the Korean War period, when Koreans encountered non-Asians in large numbers for the first time. South Koreans' racial outlooks have been fueled with "pure-blood nationalism" and "traditional patriarchal mores" distorting the way that Koreans look at foreigners, Seol Dong-hoon, a sociologist at Chonbuk National University, told the New York Times in 2009, in the aftermath of a highly publicized incident of racism against an Indian scholar then living in South Korea.
Ahn Seung-soo, owner of the controversial Suwon establishment, told Korea Exposé that his restaurant was the only remaining branch of the little-known Kkamdis franchise.
Ahn was apologetic. He denied any racist intentions, saying the caricature was meant to look like Dooli, a popular South Korean cartoon character based on a baby dinosaur. Ahn said the figure in the white loincloth is a black chicken, not a black person. The skin was meant to reflect the dark color of his restaurant's signature menu — chicken braised in soy sauce.
"Who would pour his entire savings into opening a restaurant just to make a racist slur?" he said. "It's regrettable that we are misunderstood because that was not our intention. We receive lots of foreigners in our restaurant."
The owner of the Kkamdis franchise itself, who refused to be named, said that he did not have any racist intentions in launching the chain. "If I launched a dish called 'White Jjimdak,' all white people would throw a fit," he said over the phone.
"People shouldn't scrutinize every little thing. Foreigners who complained have an inferiority complex."
But intentionally or not, the Kkamdis logo bears a striking resemblance to a caricature that's historically distinctive and recognizable — a caricature rightfully accused of pigeonholing an entire group of dark-skinned people as simpletons.
Whether the owners intended it or not, the connotation of the word kkamdi, "blackie," is on par in offensiveness with "yellow monkey," a derogatory term used to refer to Asians. Kkamdi, or its longer form kkamdungi, is not a respectful term; for example, it would be wildly inappropriate if president Moon Jae-in called Obama a kkamdi.
The Facebook user who uploaded the original post, the engineer from Louisiana, said he was shocked by reactions from the black community in South Korea. "Most of them had a mentality of 'same day same shit' or a kind of 'what else is new?' attitude. They are so jaded because it happens to them all the time."
Kkamdis is certainly not the first establishment that's come under the heat for racist depictions. In 2014, local newspaper Hankoyreh reported that the menu of a restaurant in Itaewon, a neighborhood in Seoul, used the word heukhyeong to describe dark squid ink-battered chicken and other dark-colored food items on its menu.
Heukhyeong, literally "black older brother," is often used — privately and publicly — to refer to black men in a reverential way, hence "older brother." The term often goes hand in hand with the stereotypes about blackness : athletic, big and fearsome.
Han Hyun-min, a Nigerian-Korean model and one of Time magazine's 30 Most Influential Teens of 2017, talked about how he finds the word heukhyeong discriminatory. "We [black people] find the word very offensive but a lot of people use it without knowing," he said in a December interview with BBC.
Participants in the BBC interview criticized limited representations of black people, particularly in Africa. Jonathan Thona, one of the interviewees, criticized South Korean media for portraying Africa through a lens of primitivism. "They only film the indigenous people climbing the tree — shaping the image of Africa in such way."
South Korea is still largely homogenous. Only 3.4 percent of the entire 51 million population is foreign, according to the government data as of 2016. But that's not an excuse. The government frequently brands the country as multicultural, advertising racial diversity and tolerance. An increasing number of foreigners are travelling to and living in the country — foreign residents in South Korea increased threefold from 2006 to 2016 from less than 537,000 to over 1,760,000 according to the government statistics.
Racial sensitivity still leaves much room for desire, especially when it comes to those that aren't white. In 2014, a bar in Itaewon briefly banned "Africans" during an Ebola virus outbreak (in West Africa, that is). More recently, another bar in Itaewon — typically perceived to be one of South Korea's most multicultural areas — came under fire, when a bouncer told an Indian student, "It is a rule. No Kazakhstan, no Pakistan, no Mongolia, no Saudi Arabia and no Egypt." (The owner apologized to the student.)
Surprisingly, the 'global phenomenon' of K-pop isn't always better. Artists are often criticized for appropriating black culture without the appropriate cultural and historical understanding: The offenses are as subtle as Taeyang of popular idol group Big Bang fetishizing black suffering.
"I'm not black, so I'll probably have to have more experience and go through more pain if I want to express the sentiments, emotions, and soul that black people have through my music. That's why I believe that pain and suffering will make my music richer," he wrote in his 2016 photobook.
Sometimes, the offenses are outright obvious. For example, girl group Mamamoo performed in black faces at a concert earlier this year.
Outside South Korea, Koreans are sometimes stereotyped for their own ethnic traits — the shape of their eyes being one of them. In 2012, U.S. media reported that a Starbucks barista in Georgia, U.S., had drawn a caricature with slanted eyes to identify two Korean customers. A similar incident occurred in 2016 at a branch of Starbucks in Germany. When such things happen, the nation erupts in collective rage at perceived injustice.
But awareness doesn't seem to apply when the offense is directed at other people.
"There's no impartial mediator between foreigners and locals in South Korea ," Professor Kim Hyunmi of Yonsei University told online media outlet OhMyNews in 2014.
"In foreign countries, if one has racist thoughts, merely expressing them can be considered a form of crime. But in South Korea, unlike outside the country, there has yet to be a system that curbs this kind of practice," Kim said. "Anti-multiculturalism and racism are deepening under the state's neglect and silence."
Cover image: The menu at Kkamdis, a braised chicken joint in South Korea. (Source: Facebook)
Join the newsletter to receive the latest updates in your inbox.