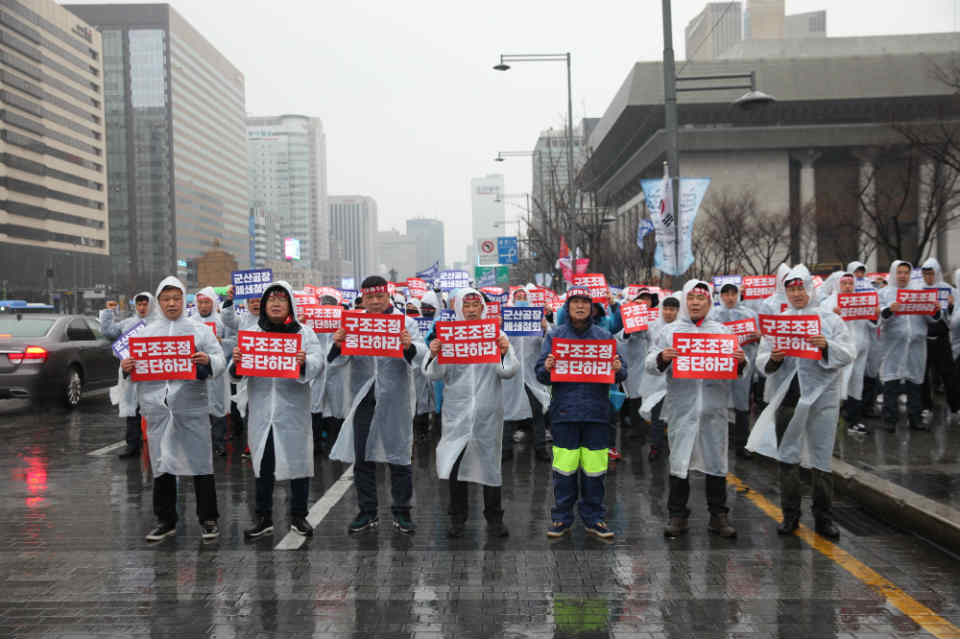 Does GM Want to Leave South Korea (Again)?
Speculation is running high that GM Korea is preparing to pull out of South Korea.
On Feb. 13, just before the Lunar New Year holidays were to begin, the company announced that it would shut its plant in Gunsan, southwestern South Korea, by May. The news came as a shock to the public. The back-and-forth between GM Korea and the government following the announcement has been making headlines, sometimes even eclipsing Olympic coverage, because of the worry that GM Korea might close altogether if it doesn't win major concessions to help its business fortunes.
Still, it doesn't seem likely that the company wants to quit South Korea for good.
***
GM Korea is big news for a simple reason: as of January 2018, the company was the third-largest carmaker in South Korea based on market share (7 percent), after Hyundai and Kia. It has factories in four cities around the country — Incheon, Changwon, Boryeong and Gunsan.
In 2017, GM Korea sold more than 130,000 units in South Korea and exported some 400,000 vehicles to 120 markets around the world, according to the company. Despite its relatively small market share here, the company has used the country as an export hub, producing close to a fifth of the Detroit-based firm's global output at its peak.
The Gunsan plant closure is expected to affect 2,000 factory workers and their families, plus more than 10,000 people working for 135 subcontractors and myriad small businesses that serve the workers (think restaurants, rental housing operators, etc.). It's therefore no surprise that South Korean media and the government are watching closely for the automaker's next move, especially with the local elections scheduled in June.
But it's not the first time the company has run into troubles in South Korea.
In 1972, GM established a joint venture called Saehan, but sales were poor. The firm's market share dropped from 60 to 15 percent between 1972 and 1976, with one expert opining that the firm's locally produced Chevrolet 1700 "was too heavy and large, and its fuel consumption was notorious among Korean drivers."
South Korea's conglomerate Daewoo Group bought Saehan in 1982 and rebranded it as GM Daewoo Auto & Technology. But in 2001, Daewoo Motors laid off 1,750 workers and the company was sold off the following year, again to GM, due to the conglomerate's own implosion in the aftermath of the 1997 Asian Financial Crisis. During the sales negotiation, state-owned Korea Development Bank (KDB) came into the picture to facilitate the deal.
KDB signed an agreement to take a major stake (28 percent) in GM Daewoo, gaining a 15-year veto power over the firm's management decisions. The following year, in 2003, KDB offered a long-term loan to keep the operation going.
But in 2009, cash-strapped GM Daewoo again asked KDB for money — a billion-dollar loan in fact — and this time, the bank rejected the demand. GM, battered by the 2008 global financial crisis but without much choice, invested $416 million of its own money in GM Daewoo, boosting its stake from 50.1 to 70.1 percent.
In 2011, GM Daewoo renamed itself to GM Korea.
Why Is GM Korea in Trouble (Again)?
In a nutshell, GM isn't selling enough cars globally, so it has pulled out of markets in Europe, South Africa, Australia, India and Russia since 2015. Kim Beom-jun, a researcher at LG Economic Research Institute, told Korea Exposé that the effects of global restructuring have trickled down to GM's South Korean unit.
"GM sold off its European unit and most of the cars sold in Europe were produced in South Korea, so the value of the South Korean unit also dropped," said Kim.
Park Hae-ho, senior manager of GM Korea's Media Communication Division, acknowledged that the pull-out of its Chevrolet brand from Europe in 2013 had affected GM's operation in South Korea. "The number of exports decreased drastically," said Park. "It [pulling out] was a right decision because it [business in Europe] wasn't profitable."
GM has also failed to win over South Korean consumers. GM commands neither the familiarity of Hyundai, Kia and Ssangyong (the three best-known Korean automobile names), nor the luxe image of European automakers like Mercedes-Benz and BMW. In recent years, GM Korea staked much hope on locally produced Cruze to boost its standing in the South Korean market, but despite generally positive reviews, sales have been lackluster.
"GM didn't adapt to the South Korean market. It didn't launch any attractive new model, and the price was high. It wasn't competitive," analyst Jung at Shinhan Investment Corp said on the condition that his given name be withheld.
The Gunsan plant produces Chevrolet's mid-size sedan Cruze and sport utility vehicle Orlando, and it is deemed the most problematic of all GM Korea factories, operating at just 20 percent of its production capacity.
"GM has a structural problem with low productivity, high labor cost and no margin," Jung added.
Some, including the company, attribute GM Korea's current troubles partly to the unionized local labor force — its frequent strikes prompted former GM Korea CEO Sergio Rocha to send out a company-wide note in 2013 asking workers to refrain from "further labor conflict."
"In hindsight, I think it was too much that the union made no concession in terms of wages and bonuses despite mounting deficit [at the company]," Park at GM Korea said.
And indeed, unionized factory workers — at least those who are employed directly by automobile firms — generally enjoy good working conditions. South Korea's biggest (and unambiguously pro-business) newspaper Chosun Ilbo reported that the average annual salary for a GM Korea factory worker was 87 million won ($82,000), not including benefits. The union disputes this figure.
"We receive 70 to 75 million won ($65,000 to 70,000) per year including wage, bonus, benefits and overtime pay for working weekends and nights," said Kim Kyung-ho, a union rep at the GM Korea branch of the Korean Metal Workers' Union (KMWU), which represents the factory workers.
"We have asked the company for the data it uses to calculate [such high salary] figures. The company has refused our demand, but it brings up those figures publicly nonetheless."
Kim at LG Economic Research Institute speculated that the closing of the Gunsan plant could be GM's way of extracting concessions from the powerful KMWU. "Gunsan was in the worst situation out of all the factories. It seems like GM announced the closing of one factory to pressure the labor union and the government."
There is a precedent for this. When Ssangyong Motor Company, then controlled by China's Shanghai Automotive Industry Corp, ran into financial trouble in 2009, the firm sought assistance from — surprise — KDB rather than its Chinese owners. Local media reported at the time that the bank initially barked, but later demanded serious cost-cutting from the carmaker as a condition for cash injection. Ssangyong then laid off nearly 1,000 workers, sparking intense protest that lasted five years (until the Supreme Court of Korea ruled in 2014 that the firing was legitimate).
Shanghai Automotive sold Ssangyong anyway in 2011 to Mahindra and Mahindra, an Indian carmaker.
GM Korea has been asking employees throughout the country to accept voluntary retirement packages. According to the union, over 2,500 workers have applied for the deal (as of Mar. 13). Among them, 2,000 are workers in manufacturing.
Predicting the Future
Based on GM's diminished global standing, poor sales in South Korea and high labor cost, it would seem sensible for GM Korea to fold, and rumors about the company's departure began as early as last fall. In September current GM Korea CEO Kaher Kazem, dubbed a "pull-out specialist" by South Korean media for his supposed lead role in GM's exit from India, arrived. Adding to local concern is the fact that the KDB's veto power expired last year, so no significant obstacle stands in the way of GM packing up and leaving.
Meanwhile, even U.S. president Donald Trump weighed in on the crisis, telling U.S. lawmakers on Feb. 14, "[A]lready General Motors is coming back into Detroit. That is a really significant statement." The comment apparently came while he was criticizing the free trade agreement with South Korea as "a very bad trade deal."
But there are other factors at play.
Not all GM factories in South Korea have been underperforming. The Changwon plant, which the company calls its "base for global minicar production," is currently running at 70 percent of its production capacity according to the labor union. It makes Spark (which is available as an electric vehicle), as well as small commercial vehicles Damas and Labo.
Spark has been one of the few bright spots in GM's recent performance. Spark's share of South Korea's subcompact vehicle market based on unit sales was 42.3 percent in 2017. Its sales in North America also have been steady, and it is produced only at the Changwon plant. The battery cells for the electric version of Spark are manufactured by South Korean firm LG Chem (which coincidentally helped to develop GM's other, far more successful electric vehicle Bolt).
So far, GM Korea has announced the closure of only its Gunsan plant. The company intends to "stay in the country and turn the business around," Park at GM Korea said. "We don't have a policy of complete exit from South Korea. Our management in South Korea is continuously trying its best to do business here."
It's a game of high-stakes poker. While publicly affirming its commitment to production in South Korea, GM Korea has, intentionally or not, sowed uncertainty with its abrupt Gunsan factory closure announcement. Unlike GM Korea's multiple official statements declaring its willingness to stay, the headquarters' stance, expressed in the firm's SEC filing this February, is vague:
"As we strategically assess our performance and the manner in which we operate in Korea and certain other countries, additional restructuring and rationalization actions may be required and may have a material impact on our results of operations."
According to Reuters, GM made an offer to the government on Feb. 20 to convert debt of around $2.2 billion owed by its South Korean subsidiary into equity in exchange for financial support and tax benefits.
The government has stood firm. The Ministry of Strategy and Finance said on Feb. 22 that no decision had been reached about financially backing GM Korea. Then on Mar. 8, the government announced that it would offer about 240 billion won ($225 million) in loan guarantees and low-interest loans to areas affected by corporate restructuring including Gunsan — in essence, helping the local economy wean off its dependence on GM.
GM Korea apparently made another proposal then: asking the South Korean government to designate its factory sites as foreign investment zones with attendant benefits, according to the Ministry of Trade, Industry and Energy on Mar. 12.
At the same time, an audit of GM Korea is progressing, with the firm's consent, to see whether its poor financial performance may have other reasons, including excessive profit transfers to the headquarters in Detroit in the name of royalty and interest payment and others.
No matter how it pans out, the standoff over GM Korea illustrates the complex relationship between the South Korean government and foreign multinationals that do business here (not that similar relationships aren't complex in other countries). Once integrated into the local economy, firms enjoy significant clout and may even count on state support, especially if they are major regional employers.
But GM Korea's demand is ill-timed. After having to deal with debt-ridden big local companies like Daewoo Shipbuilding and STX Offshore & Shipbuilding, there isn't much appetite in South Korea right now for a massive bailout. The climate is even less favorable for a foreign enterprise like GM, which already benefited from government largess in the past.
If the company really wants to stay using South Korean taxpayer money (and signs indicate that that's what it wants), it's in for hard bargaining.
Cover image: GM Korea workers protesting against the restructuring of GM Korea in February. (Courtesy of the GM Korea branch of the Korean Metal Workers' Union)
Join the newsletter to receive the latest updates in your inbox.